Tony "Lobo" Dohring
I am a flawed father and husband, a werewolf jedi master. Honor, integrity and Jesus are very important to me.
WARNING: my disclaimor – I have been to many counselors in my life for a plethora of reasons and all have said the same thing… "my intentions are always honest and pure, but my delivery usually couldn't be worse." So please forgive me on this and never ask a question that you don't want the answer.
Now to the reason you are reading this ridiculous profile. Both of my parents are talented artists. My father taught me three point perspective when I was 11 and have enjoyed "drawing" for as long as I can remember. I have studied art for most of my life, beginning in elementary school. I kept at it through high school, and at the University of Michigan where I pursued a pre-med degree in micro-biology and psychology. A few classes shy of finishing my degree I got a job a Ford Motor Co. It paid well but stagnated my education for a while. I worked on comic books for a few years penciling and inking. I also studied graphic design at Henry Ford Community College while earning my masters electricians license. And after all of that, here I am, a humble tattoo artist, FINALLY doing what I love.
I enjoy doing black and gray photo-realism – from portraits to flowers to skulls to wildlife. However, Neo-traditional color work is my favorite. I do my best to make your time in my chair as painless as possible and as fun as i can (although I will be poking your several thousand times with some needles so it may hurt a bit).
We at Neurotic Ink like to joke and have fun with each other and our clients. Many of my best friends started out as clients. When we spend hours together we tend to learn a lot about each other.
I spend my days designing artwork based on my client's vision and bringing it to life on their skin. Oh yeah, and playing video games with my amazing crew whenever i can.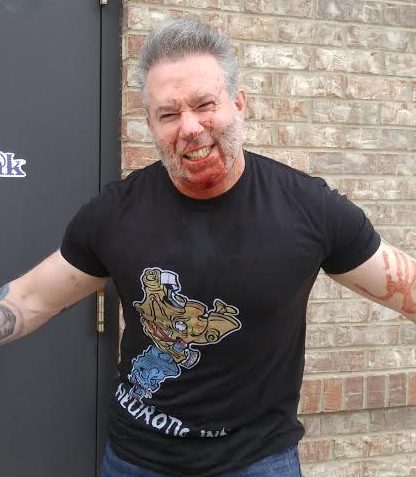 Connect with me on Facebook
Click here to follow Lobo on Instagram.
Call: 734-727-4825 to schedule an appointment with Lobo.